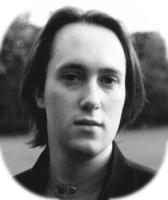 James Aylett has performed in both comedy and drama regularly for more than ten years, and first appeared at the Edinburgh Fringe in 1995. As an undergraduate, he worked with the Cambridge Footlights, performing regularly, writing for shows such as SOS (directed by Richard Grocock) and Emotional Baggage (directed by Matt Holness), and acting as alumni liaison and web manager. While at Cambridge he also wrote, directed and performed in Pawns Don't Have Sex, a show which combined comedy with radical flow and performance structure including variable endings influenced by the outcome of a chess game.
In a more serious vein, James has done the obligatory Shakespeare (favourite bit: Marcus in Titus Andronicus for Rob Tesh, although trying to figure out how many recursive layers of boy-fancies-girl-dressed-as-boy-but-really-wants-her-to-be-a-boy-after-all you can get away with when playing Orsino is dead good too), Ibsen, etc. before deciding scripted acting probably wasn't his thing and going to New York to learn film making.
Co-founding The Uncertainty Division on his return, he has performed in all of and frequently directed the group's narrative shows (No Second Thoughts, Impromime, Out Of Your Mind, An Extremely Memorable Emergency, 18 Minutes and Stories That Want To Be Told), as well as appearing regularly in the group's cabaret and gameshow work, including shows at the ADC Theatre in Cambridge, and the Bongo Club in Edinburgh.
He has written for London News Review, The Friday Thing, NSFWCORP and Pando Daily, and secretly worked in advertising until someone spotted him and he had to leave.